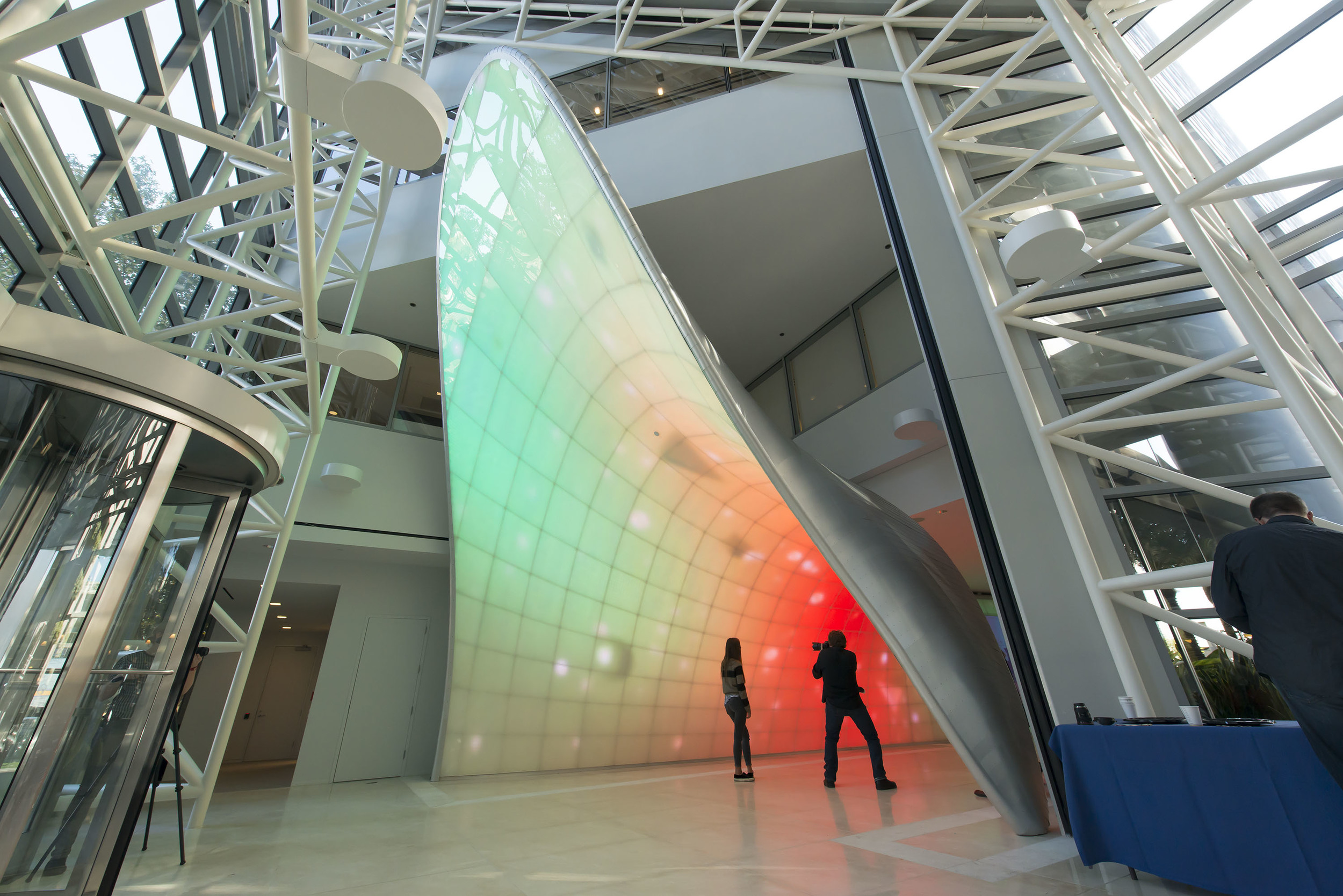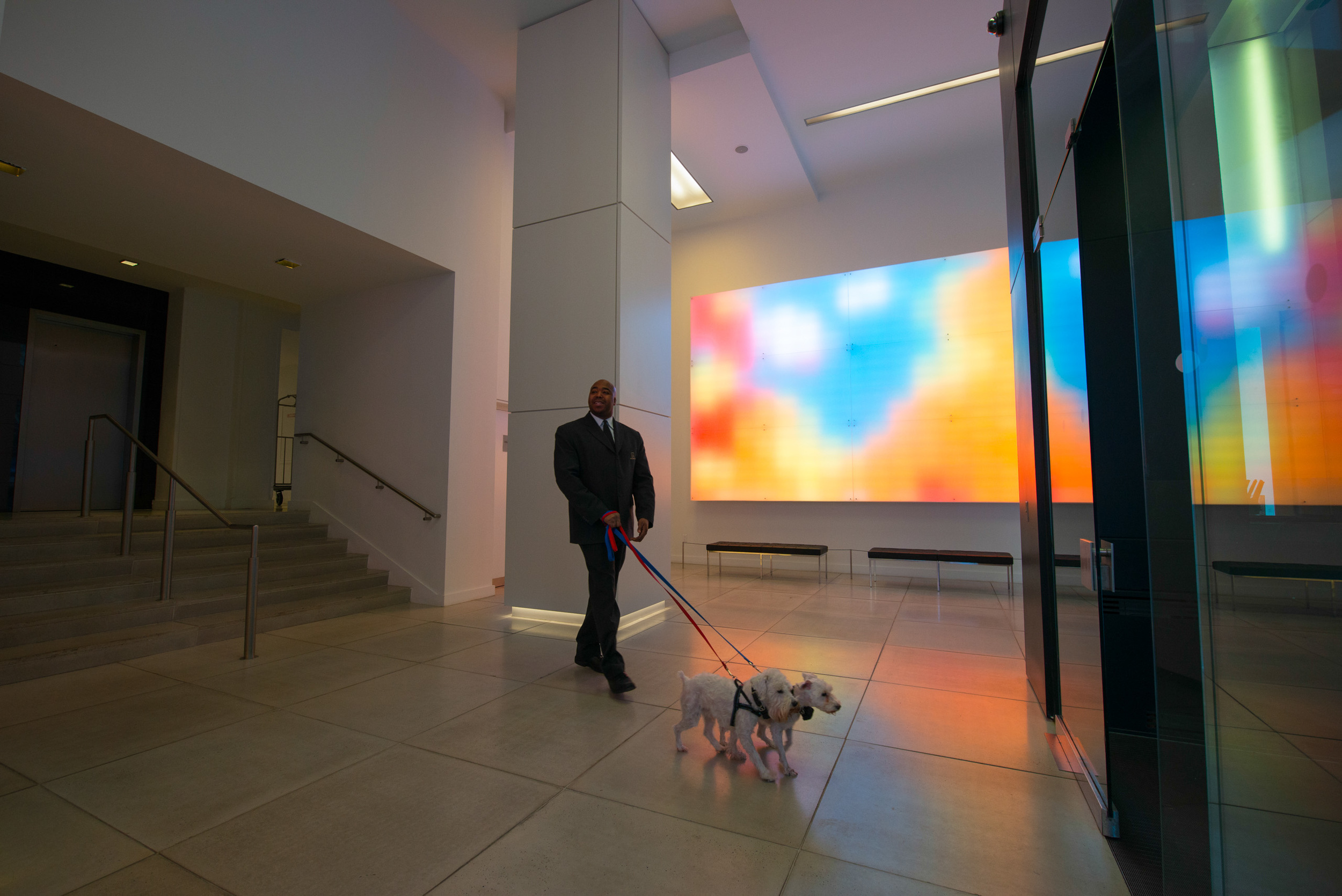 Whorl, 2014
Whorl is and interactive installation. When visitors enter the installation space, their presence activates a lush fabric of abstract flora. Flowers bloom, animate, grow, and contract in relation to peoples' movements and location.
Whorl is installed at UCLA's IMLab were it serves as a driver project for OpenPTrack, an open source person tracking system for use with interactive media. OpenPTrack is a collaborative project led by UCLA's Center for Research in Engineering, Media and Performance (REMAP) and Open Perception. I have been an advisor for OpenPTrack since the project's inception.
Whorl was created in collaboration with David Glicksman and Damon Seeley.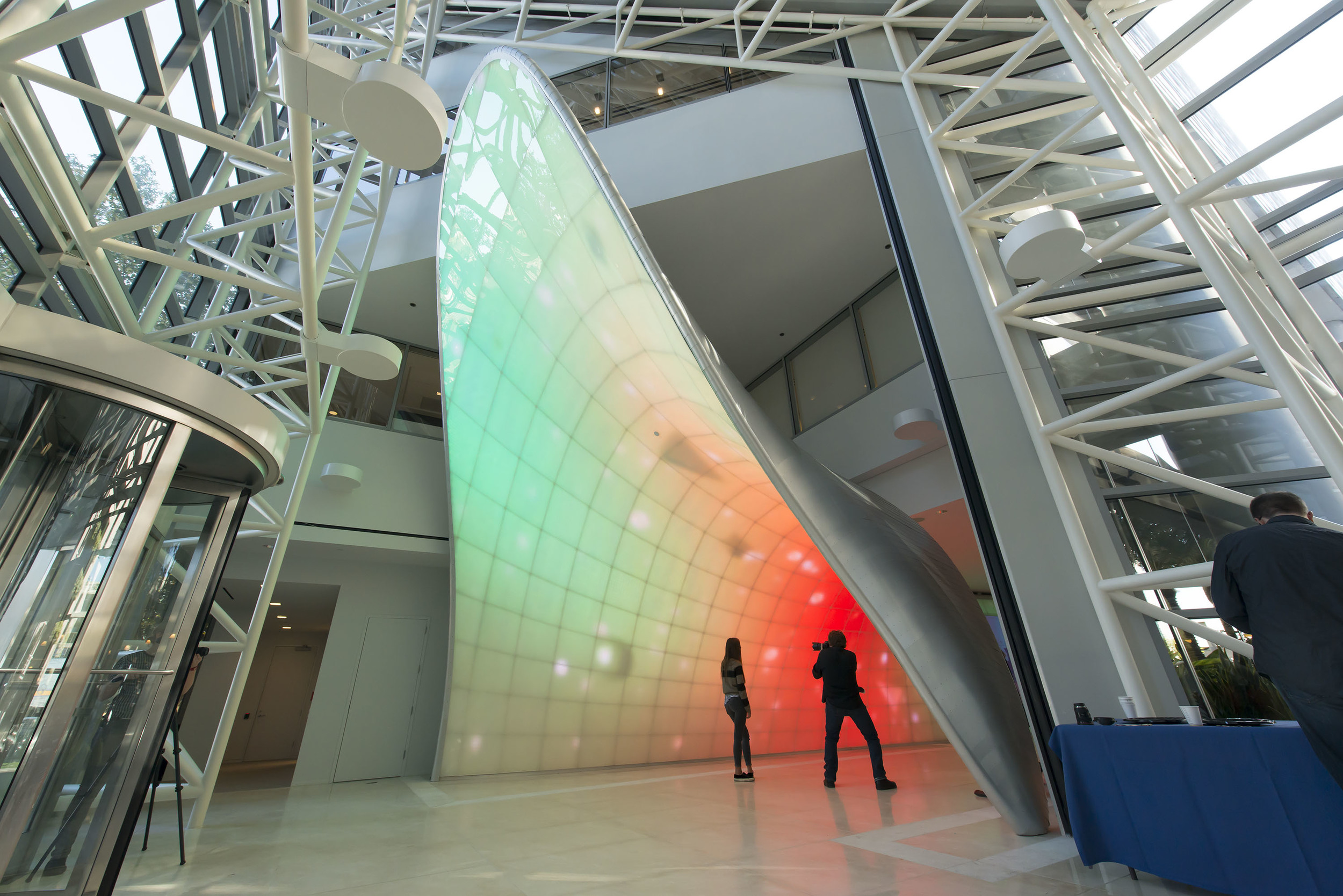 Aurora, 2013
Aurora is an architectural scale installation that responds to the presence of visitors with realtime computer graphics.
Aurora employs 47,000 LED RGB lights diffused by 600 curved plastic panels. For this structure, I was commissioned to collaboratively create the installation's interaction design concept. I was also commissioned to realize this concept by creating and integrating a bespoke person-tracking system.
In 2013, Aurora was permanently installed in the lobby of the DirecTV corporate headquarters in El Segundo, California.
Aurora was created in collaboration with Electroland.
Navilandia, 2012
Ten US based artists, including myself, were invited by CheLA to participate in Navilandia, a community art intervention situated in Parque Patricios, an economically challenged neighborhood in Buenos Aires. CheLA is a center dedicated to research and experimentation regarding converging forms of art, science and technology and their impact on Latin American Cultures. The artists were partnered with local community groups to create interventions using a warehouse full of found christmas tree ornaments.
I was invited to create a geographic information system (GIS) to allow these groups to construct interpretive digital maps of their interventions and to use these maps as source material for an online artwork. While it is common to use GPS and mobile devices for community mapping efforts, our project involved underprivileged communities for whom these technologies are prohibitively expensive. Instead, I codeveloped a system of registered transparencies that allowed community members to draw maps by hand which could then be digitized and encoded with geospatial data.
Using the geospatial data, I created a a web-based interactive artwork that serves as a permanent record of the community art intervention.
Utopia Parkway, 2012
Angie Hauser and Chris Aiken commissioned me to author software to generate realtime graphics for their improvisational dance Utopia Parkway.
It was vitally important for the production that the interface for the generative graphics be simple enough that it could be controlled by a lighting board operator. At the same time, the system needed to remain expressive and still able to respond to events as they happened in the dance.
For this production, I created an Objective-C application that allowed for the creation and triggering of animations during the performance. The system allowed for the realtime manipulation of an object's scale, speed, translation, and color through a combination of GUI controls and keyboard shortcuts. My unique graphics system allowed my projected media to be as improvisational as the performance.
Utopia Parkway was performed at the Mendenhall Performing Arts Center in Northampton, Massachusetts and at the Irey Theater in Boulder, Colorado. Both performances ran in 2012.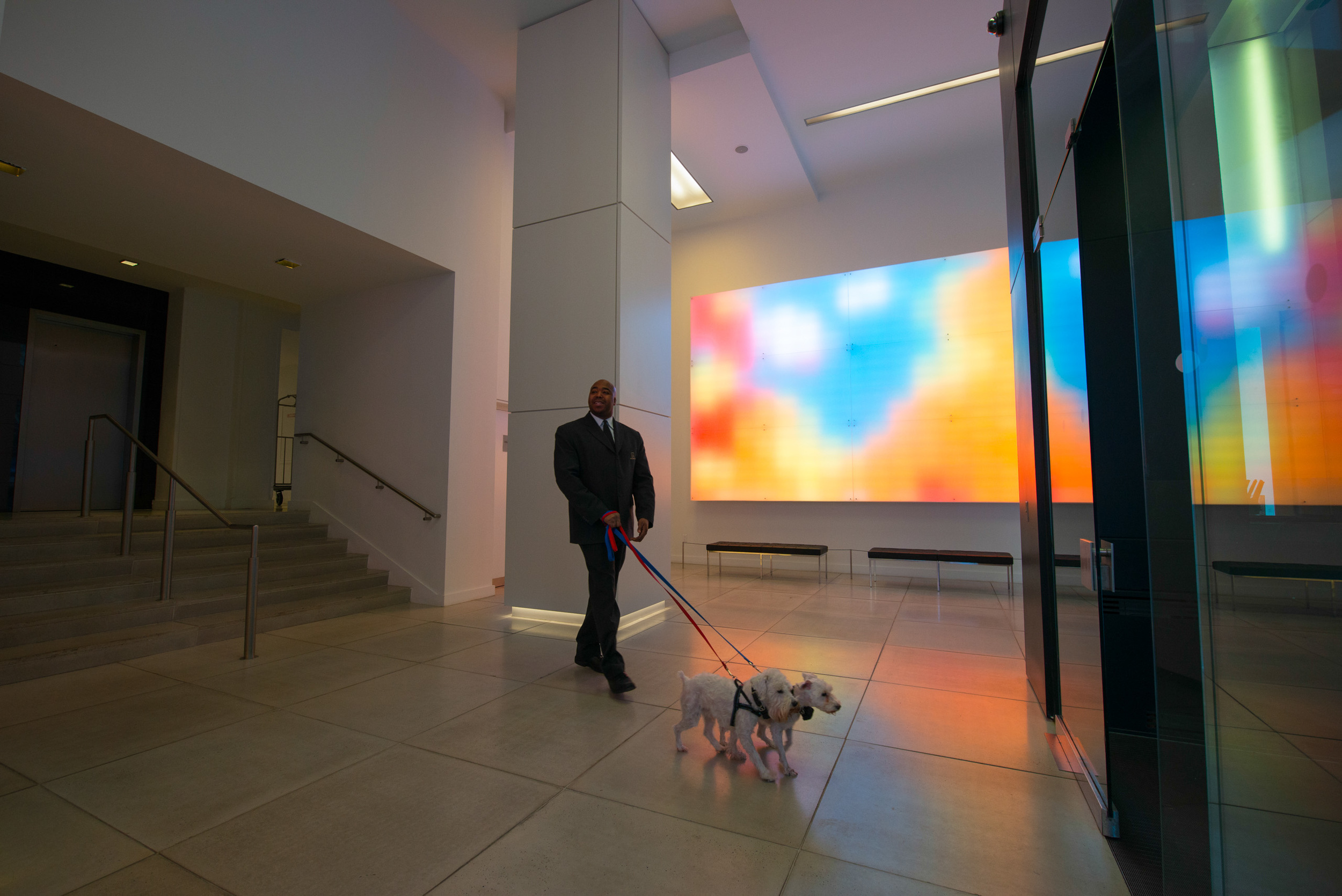 Aether, 2012
In Aether, the movement of people in the space is represented on two 3x4 meter LED displays as soft white clouds that stir brightly colored forms. After collaborating with Electroland on the installation's concept, I built a specialized person tracking system to achieve our shared design goals.
Aether was perminantly installed in 2012 in the lobby of the Gotham Apartments in New York, New York.
Aether was realized in collaboration with Electroland.
The Oresteia, 2011
For The Oresteia, a modern production of the Greek tragedy, I was commissioned to create "a manifestation" of an oracle. I used two short-throw projectors to create (1) a vortex of particles on the floor and (2) a wispy cloud on the wall.
Through use of a stereo vision system, both the vortex and the cloud responded to actors' movements in the performance space. The cloud on the wall followed the actors making it feel as though the room had a living spirit. The actors' movement also manipulated the flow of the vortex that was projected onto the floor.
The Oresteia was performed at the Austin Arts Center in Hartford, Connecticut in 2011.
Cunningham MinEvent, 2011
I was commissioned to create a projection for a Cunningham MinEvent. For this performance, I explored the interfaces between body, motion, gesture and the projected image.
I created a realtime reactive graphics system for this production that engaged Cunningham's aesthetic principles of indeterminacy. The system was designed to complement and amplify the dancers' movements on the stage. This work responded to the dancers by turning their bodies into "brushes" thereby serendipitously creating a painterly composition through their performance.
Like all Cunningham Events, choreography, sound, lighting, costume, and video were designed by different artists in isolation from each other and purposefully only combined at the time of performance.
This Cunningham MinEvent was performed at the Mendenhall Performing Arts Center in Northampton, Massachusetts in 2011.
Morse, 2011
Morse is a sculpture constructed out of 3 sheets of perforated steel. Morse displays the first message sent via telegraph, "What hath God wrought?" Precision cut by a computer control water cutter, the sheets are designed in such a way that the message is legible from select angles and illegible from others. The visible rusting of the steel adds visual interest while emphasizing the sculpture's construction methods.
Morse exhibited in 2011 at Art + Science in Escondido, California.
Guinness Folly, 2010
Guinness Folly presented visitors to Hollywood Boulevard with a fun reflection of themselves and those around them. All public artworks need to solve the problem of creating meaningful interaction for multiple participants; Guinness Folly dealt with the throngs of tourists around Hollywood and Highland.
Guinness Folly was Commissioned by Electroland and installed July—November, 2010, on Hollywood Boulevard, Hollywood, California.
Pulse, 2009
Pulse is a 40 meter long LED light facade which illuminates with different patterns in response to vehicular traffic below. As such, it is in active dialogue with California's car culture.
For Pulse, I created a scriptable image processing system to allow the realtime interpretation of, and response to, street level video. Standard video processing systems could not be used because of the uniqueness of the custom built screen. I also collaborated on the visual appearance of the processed video.
Pulse was perminantly installed in 2009 on the facade of the Los Angeles Fashion Center in Los Angeles, California.
Pulse was realized in collaboration with Electroland.
The Ineffable, 2004 – 2009
According to Jewish mystics, correctly uttering the seventy-two-part unspeakable name of God can animate a golem; it is also said to cause immediate death in an impure speaker. The correct pronunciation of this ancient name is lost to history. In Jewish tradition, text is living and words have power. In The Ineffable, animate Hebrew letters and vowels struggle to reconstruct this powerful name, but only in the presence of humans.
Exhibition History:
Reflecting the Sacred, El Camino College Art Gallery, Torrance, California, 2009.
Too Jewish-Not Jewish Enough II, Finegood Gallery, West Hills, California, 2007.
Too Jewish-Not Jewish Enough, Gotthelf Gallery, San Diego, California, 2005.
Too Jewish-Not Jewish Enough, Bell Gallery, Los Angeles, California, 2004.
MIRA, 2007-2008
In MIRA, virtual fish and other creatures were projected onto a table which was transformed into a giant multitouch display. Touching the creatures triggered video, sounds, and animations.
I created a custom monocular vision system that could detect when projected objects were being touched by visitors. The movement of the fish was defined though a scriptable behavior based animation system which allowed fish to exhibit collective behavior like schooling/flocking while still following individual goals.
MIRA was started in 2007 and with the final version completed in 2008.
MIRA was created in collaboration with Electroland.
Exhibition History:
MIRA 2008, Xiaman, China, 2008.
MIRA Pool, Xiaman, China, 2007.
Drive By, 2007
Drive By is a 73-meter LED interactive light installation that tracks passing cars and alternates between two modes: alphanumeric letters that read out famous lines from Hollywood films, and abstract letterforms that follow cars as they pass by, displaying bright red "collisions" as the cars pass each other. For Drive By, I collaborated on the installation concepts and I created a bespoke computer vision based car tracking system.
Drive By was perminiantly installed in 2007 on the facade of NoHo Commons in North Hollywood, California and received a 2008 Honor Award from the Society for Environmental Graphic Design (SEGD).
Drive By was realized in collaboration with Electroland.
Drafting Poems: Inverted Potentialities, 2002-2006
Drafting Poems: Inverted Potentialities challenges preconceived notions of intelligence, creativity and authorship. In Drafting Poems, an artificially intelligent system reacts to user stimuli and creates meaningful poetry.
Participants are invited to draw with dry-erase markers on the surface of a glass drafting table. Displayed on the table is a soup of letters, which are repelled (like magnets) from the marker, the eraser, and from each other. As participants draw on the table, the installation gathers pen movement statistics. The pen movement statistics are then fed to an AI system that generates poetry which offers commentary on the gap between the analog and digital.
Exhibition History:
Remote, ACM Multimedia, Santa Barbara, California, 2006.
Leonardo II, ACE2006, Los Angeles, California, 2006. (Awarded Silver Medal)
Last: Design | Media Arts MFA Thesis Exhibition, New Wight Gallery, Los Angeles, California, 2002.
Imageability, 2006
Imageability explores connections between an individual's mental maps of Los Angeles and the city's history. Individuals interactively browse a large database of historical images and text through drawing their "map" of Los Angeles.
A pen based interface that allowed users to draw on a map of Los Angeles. Through the novel interface, users can access a networked database of geocoded and annotated images.
Projected on the walls are collective maps slowly changing and reflecting the installation's aggregate usage. A generative ambient sound score heard in the installation space was also driven by the communal use of the graphical interface.
Imageability was exhibited at the Los Angeles State Historic Park Grand Opening in 2006.
The Blogger Project, 2006
The Blogger Project is an experimental theater production written and directed by Tony award winner Mel Shapiro. The Project's visual design arose from a unique collaboration among artists and engineers from UCLA's Center for Research in Engineering, Media and Performance (REMAP). I was one of the primary participants of this collaboration.
Prompted by the show's material and game-like concept, we explored how the power of a game engine, the Unreal Engine, could be harnessed to create a uniquely fluid world of media for a live event.
I developed software to enable playback of video footage within the 3D world. I also wrote extensions to allow the game engine's perspective, movement, and media to be controlled remotely in realtime by an operator during the production.
The Blogger Project was performed at the Freud Playhouse in Los Angeles, California in 2006.
Ecce Homology, 2003 — 2005
Ecce Homology is a physically interactive artwork that visualizes genetic data as calligraphic forms. A novel computer-vision based user interface allows multiple participants, through their movement in the installation space, to select genes from the human genome for visualizing the Basic Local Alignment Search Tool (BLAST), a primary algorithm in comparative genomics.
Five projectors present Ecce Homology's calligraphic forms across a thirty-five foot wide wall. Multiple users can simultaneously interact with the installation through its computer-vision system (in which hand movement is detected and rendered in front of the user for feedback). By moving in the installation space, users are able to draw their own calligraphic characters.
A pattern-matching algorithm compares the user-drawn forms with the existing visualizations of genes in a genome database to select a character from that database. The system visualizes a BLAST run with the selected character as its target.
Ecce Homology engages the public in genomic issues through an artistically based holistic visualization of genomic data coupled with an esthetically engaging interactive experience.
Ecce Homology was created in collaboration with Ruth West, Jeff Burke, Cheryl Kerfeld, Tom Holton, JP Lewis, Ethan Drucker, and Weihong Yang
Exhibition History:
IEEE Symposium on Information Visualization (INFOVIS'06), 2006.
SIGGRAPH Art Gallery, LA Convention Center, Los Angeles, California, 2005.
Within: From the Verandah: Art Presence and Buddhism, Fowler Museum, Los Angeles, California, 2003.
Target Interactive Breezeway, 2005
The Target Interactive Breezeway is an interactive experience adjacent to the Rockefeller Center top floor observation decks. For this work, I collaborated with Electroland on designing an ephemeral interaction that could be meaningfully experienced by the throngs of tourists visiting the "Top of the Rock."
For this installation, I integrated a commercially distributed person tracking system with a custom lighting control driver and software to create an interactive breezeway which engages pedestrians in an interactive encounter where their position and paths are traced by colorful avatars and effects.
In 2005, The Target Interactive Breezeway was permanently installed at the "Top of the Rock" in Rockefeller Center in New York, New York.
The Target Interactive Breezeway was realized in collaboration with Electroland.
Little Red, 2003
Little Red reminds us of technology's dual nature - its potential for repression and liberation. By repurposing technologies used for censorship, Little Red is anti-censorware. Armed with a list of obscenities allegedly used by AOL in censoring their chat rooms, Little Red reveals the vulgar and prurient subtext in the classic children's tale Little Red Riding Hood.
In Little Red, the Grimm fairytale of Little Red Riding Hood is progressively typed out across the top third of the screen. Letters from the story organize and rearrange themselves into censored obscenities on the bottom of the screen.
Exhibition History:
Rewind, New Wight Gallery, Los Angeles, California. (2006)
Second Natures, New Wight Gallery, Los Angeles, California. (2006)
Dot-matrix, Apeejay Media Gallery, New Delhi, India. (2005)
Little Red, Telic, Los Angeles, California. (2003)
The Bush Soul (#3), 1999
The Bush Soul (#3) builds upon The Bush Soul (#2) by adding the element of time. Artificial life forage for food during the day, sleep at night, and engage in evening rituals. A "soul" is represented as a sphere of particles. As one explores and interacts with the environment, one's soul may inhabit the body of certain artificial life forms. A force-feedback joystick provides navigation and tactile sensations and serves as a connection between the physical body and virtual soul. Through the joystick one can feel the "energy" of the environment as vibrations emanating from different creatures and significant places in the virtual world. This work draws on the language of video games but presents an alternative artistic exploration of behavior and artificial life.
The Bush Soul (#3) was created in collaberation with Rebecca Allen, Loren McQuade, John Ying, Pete Conolly, Josh Nimoy, Jino Ok, Damon Seeley, Daniel Shiplacoff, Karen Yoo, and Vanessa Zuloaga.
Exhibition History:
Second Natures. New Wight Gallery, Los Angeles CA. (2006)
ACM1: Beyond Cyberspace Exhibition.San Jose Convention Center, San Jose, CA. (2001)
SHIFT-CTRL: Computers, Games and Art. Beall Center,University of California Irvine, Irvine, CA. (2000)
Art Futura. Centro Andaluz de Arte Contemporaneo, Seville, Spain. (2000)
Ground Zero-Future Art. The Tech Museum of Innovation, San Jose, CA. (2000)
Electronic Rituals. Intermedia Arts Gallery, Minneapolis, Minnesota. (1999)
Interactive Frictions. University of Southern California (USC), Los Angeles. (1999)
SIGGRAPH Emerging Technologies. LA Convention Center, Los Angeles, CA. (1999)
Life Science. Ars Electronica Center, Linz, Austria. (1999)
The Bush Soul (#2), 1998
The Bush Soul (#2) is an interactive artwork that explores the role of humans in a world populated with artificial life. The world's inhabitants are brought to life through behavior-based artificial intelligence. Complex social environments emerge from the interaction of simple behaviors. An avatar carries one's "bush soul" into the "virtual bush" by following the guidance of a human participant, but, like a wild animal, the avatar is "alive" with is own set of behaviors (e.g. avoidance, wandering, resting).
"The Bush Soul (#2)" is the first work to be created with the Emergence Engine, a PC-based, real-time 3D software system that supports an active, responsive, networked, virtual world. This engine was co-developed by me, with Loren McQuade, under the guidance of Rebecca Allen.
The Emergence system includes a unique 3D engine, which handles the rendering, and display of three-dimensional, texture-mapped characters and environments and a physics based behavior system that enables complex behaviors and interactions between all objects in the environment. In addition, high-level behavior scripting allows for the specification and manipulation of behaviors and relationships between characters. Sounds, such as voice, music, and ambient effects are attached to objects and characters to enhance the sense of life and space.
The Bush Soul (#2) was created in coloration with Rebecca Allen, Loren McQuade, Pete Conolly, Jino Ok, Damon Seeley, and Daniel Shiplacoff.
Exhibition History:
Materiale/Immateriale. Cento Trevi, Bolzano, Italy. (1999)
Art and Aesthetics of Artificial Life. UCLA Center for Digital Arts, Los Angeles, CA. (1998)
Siggraph Art Exhibition. Orlando Convention Center, Orlando FL. (1998)
Doors of Perception 5: Play. Netherlands Design Institute, Amsterdam. (1998)
Virtual Africa. Royal Museum of Central Africa, Belgium, and web-based virtual exhibition. (1998)